From the moment I laid my eyes on the Huntington paperpack, I knew I had to purchase it! I also felt the same way about the new Designed Decor Colonial White Frame...I just love all country things & when does chicken wire not scream country? But I hit a creativity block when it came time to do "something" with the frame & the paper...then it hit me! I was inspired by CTMH's version in the new idea book but I added my own personal touches. Once I was all done, I had it laying on the counter in our kitchen as I wanted to show my husband when he got home from work...but he beat me to it as he went in the house before I knew it & saw it. When I walked in the door, all he said to be was "Beautiful" & then when he saw 2 special details that I added, a few tears fell...I must admit, when my work brings tears (whether it be my quilting or scrapbooking) to those I create it for, I feel inspired to keep doing it. I create to bring smiles to those around me & with my husband's reaction, I knew I had accomplished that!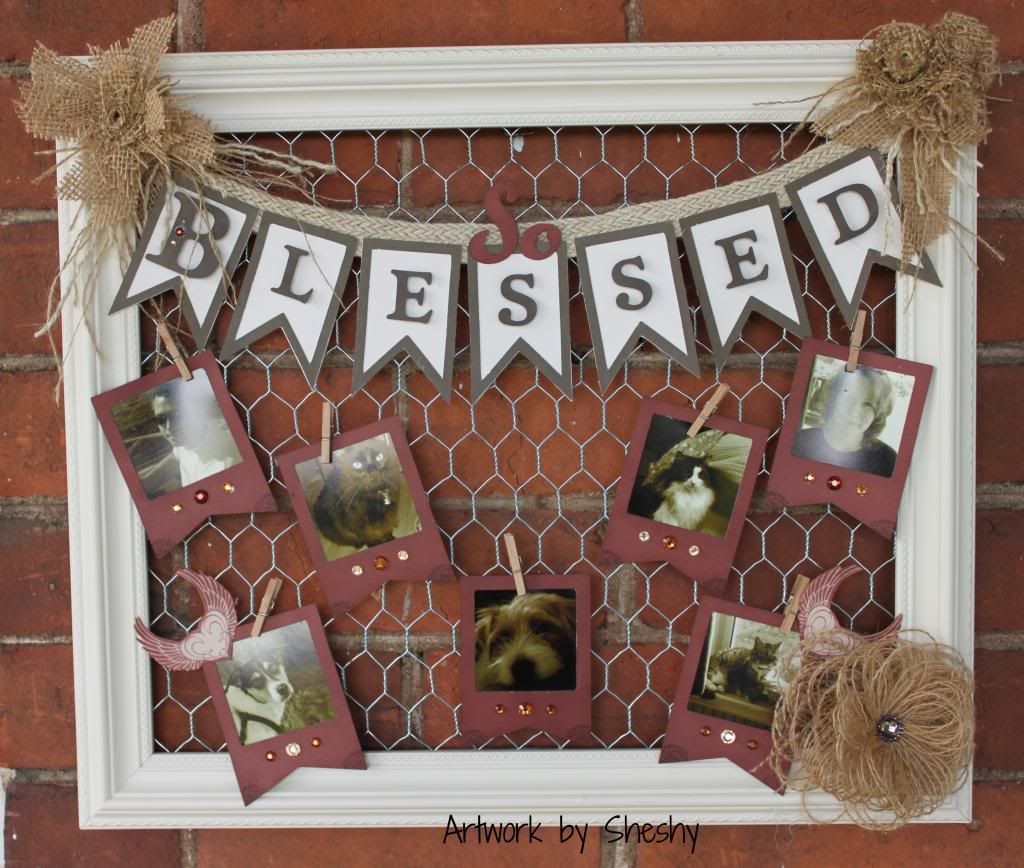 So, I used our burlap ribbon ( I think I might love that as much as the Bronze Shimmer Trim!) to create the assorted "flowers" on the frame; I also used the Art Philosophy Cartridge to create the pennants & the font for the title, I used the Artbooking Cartridge to create the photo mounts & the "So" in the title & I also used the Brown & Tan Assortment Sparkles, the Rosewood Collection, the Jute Ribbon & the Mini Clothes Pins. The only item that you cannot purchase is the stamp set I used to put wings on our babies who are no longer with us as that was a special stamp set from Convention 2010, otherwise, all of the products used are available in the new Idea book.
So that does it for me. I hope you have enjoyed viewing my artwork as much as I have enjoyed creating it for you! I will say that I will do a blog hop again...it "forced" me to sit down & do something for me for a change instead of doing what I have to do! I hope you take some time each week if you aren't lucky enough to do it more often than that to do something that makes you happy. If I can help you unleash your inner creativity in any way, please let me know. For that matter, if you have any questions about any of my techniques used in any of my artwork, please let me know!
Thanks for stopping by & spending some time with me & keep hopping along!